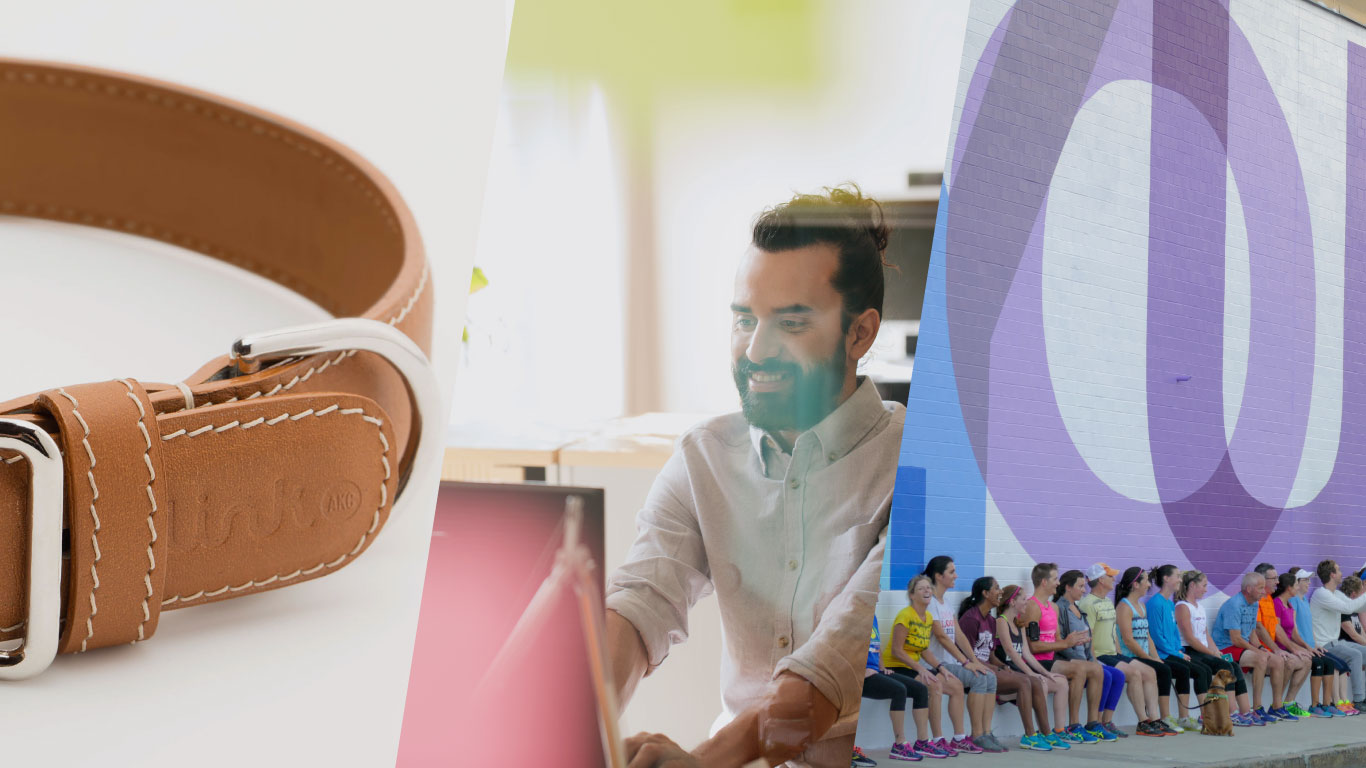 We build experiences that enhance the lives of people products are built for
Origin builds experiences across many mediums. From micro experiences such as apps you hold in the palm of your hand to macro experiences like an international mural festival, the Origin team implements our human-centered design method to create lasting memories for your consumers.
LINK AKC Smart Dog Collar: Know Your Best Friend Better
Working alongside our partner Bluefin Technology Partners, we worked on initial product ideation, customer discovery, market and competitive assessment, product requirements definition, UI/UX design, and product management to deliver a top of the line IoT smart collar that strengthens the bond between people and their pets.
eCornell: Online Learning from Cornell University
Looking to strengthen their position in the online learning marketplace, eCornell worked with our team to redevelopment the site architecture and approach for their page. We added new functionality while focusing on the end user experience on the site. Our human-centered design approach allowed for a greater understanding of how to build the page for the people using it through customer interviews, persona development, and product testing.
One Simple Wish: Bring Joy to the Life of a Child in Foster Care
We helped the team at One Simple Wish redevelop their online giving platform that places a focus on the lives of the children and the story they have to tell. Remapping the site architecture and developing a new way of presenting gift options to supporters brought a new level of humanity to this donation site and continues to provide a solid framework for scaling the business.
"A beautifully designed website matches givers with kids who need even the most basic items" — Forbes
Our team used our experience design approach to tackle the challenge of presenting multiple, large datasets about higher education return on investment statistics, demographics, and more to build an intuitive interface for students to explore potential higher ed options by looking at stats regarding trending careers and ROI by school.
Worcester's Theatre District
Creative placemaking, urban development, community activation, and district branding support was provided by Origin to Worcester's Theatre District Alliance; a neighborhood group hoping to elevate the perception and activity of their district in Downtown Worcester. Origin facilitated creative brainstorming sessions with district stakeholders that lead to the design and execution of the Theatre District brand.
Worcester Idea Lab: Activate Innovation. Inspire Creativity. Foster Collaboration.
We constructed the identity for this collaborative workspace in Downtown Worcester to establish it as a hub for ideas, collaboration, and innovation. Additionally, we continue to work alongside the Idea Lab to assist in service design for enhancing their membership model and affiliate programs.
EcoTarium Science Museum: City Science & Wild Cat Station Exhibit Branding
The EcoTarium Science & Nature Museum needed logos developed for two new exhibits they were bringing to the museum. City Science: The Science You Live and Wild Cat Station both needed to appeal to children; the museum's primary focus, but also to parents, families, and adults.
POW! WOW! Worcester 2016: Bringing Vibrancy + Connectivity to an Urban Downtown
Origin founder Joshua Croke and partner Kyla Pacheco played an active management role in the design, definition, and implementation of New England's largest mural festival in 2016. The pilot year of the project, Croke and Pacheco worked with an organizing committee of 12 other community members to create a mural festival that was intentional about increasing walkability, city perception, and things to do in the city during the festival.
BoldlyGo Institute: Advancing the Frontiers of Space Science and Exploration
Origin works with BoldlyGo Institute to develop their brand position and operations strategy to further their mission in conducting space science exploration and expanding the reach of private space science missions.